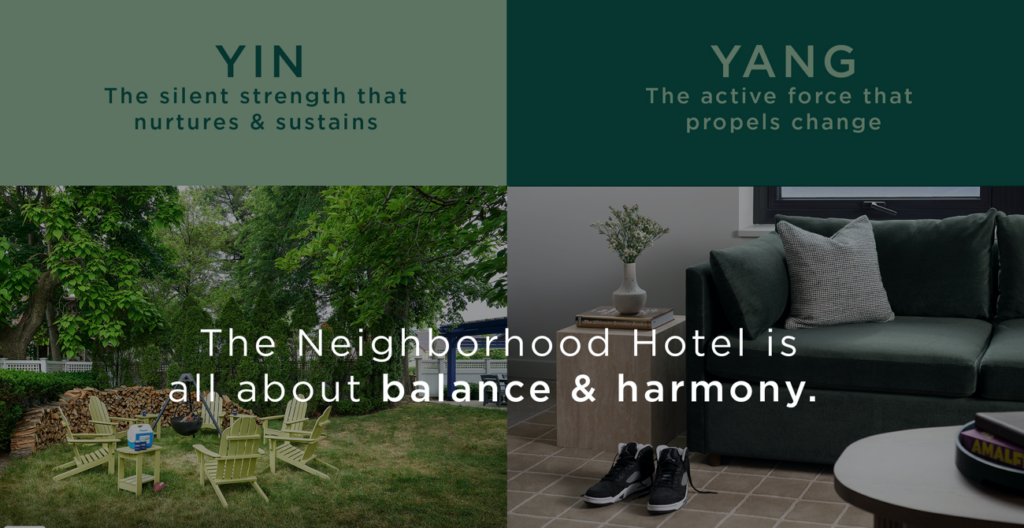 Our common spaces are ideal for group gatherings while smaller nooks & suites offer plenty of quiet, restful options.
Introvert? Extrovert? 
Do you: Dive right in or hang back in a group setting?
People generally fall into one of these categories. It's said that introverts feel energized after some alone time while extroverts feel recharged after time spent with people. Regardless of introvert/extrovert status, you may find yourself in a mood to immerse yourself in a gathering or, depending on the day, remain in the background.
We, The Neighborhood Hotel team, are comprised of all kinds of people/personalities. And we feel strongly that in the world of hospitality, understanding and catering to various personalities is vital. With this in mind, each of our locations was created to recharge/refuel everyone. We want to nurture the homebody, support the adventurer and uplift a group.  
Our Southwest Michigan locations offer the ultimate gathering spaces between: lawns, fire pits, living rooms and a dynamite basement and pool at Grand Beach. However, each suite is tucked away and serves as a tranquil, comfortable cocoon apart from (yet close) to all of the action. 
Our city locations – Lincoln Park, Little Italy and West Loop [coming 2025] – are situated in the heart of vibrant neighborhoods. Each prime location is steps to the best food, entertainment and cultural institutions in the city. 
In Little Italy, guests are minutes from: UIC, Rush Hospital & UI Health.
In Lincoln Park, the Lincoln Park Zoo, Lake Michigan and Wrigley Field are a short walk.
We want guests to feel the buzz of each neighborhood while feeling settled in a peaceful abode.
Full kitchens are stocked, supreme linens are soft and the showers are warm and soothing.
We see you, we get you, we support you.